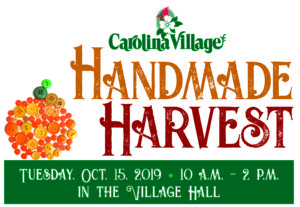 It's Handmade Harvest time at Carolina Village. The Village invites the public to campus Tuesday, Oct. 15 from 10 a.m. to 2 p.m. for the free Handmade Harvest Craft Fair. The event and parking are free.
Local craftspeople, including approximately 35 Carolina Village residents and members of the larger western North Carolina community, will be selling, showing, and demonstrating their crafts or collections. Vendors will include jewelers, painters, quilters, knitters, woodworkers, floral workers, collection curators, and others. These craftspeople range from hobbyists to seasoned professionals.
Phyllis Smith, Activities Director at Carolina Village, spearheaded the event, which is intended to celebrate local craftspeople and to support the community.
"We are excited to welcome the public to our campus for this family-friendly celebration of local craftspeople," said Smith. "We have some very impressive talent here at the Village and locally. We want to celebrate and share that creativity."
Attendees can register to win a variety of door prizes.
Carolina Village is located at 600 Carolina Village Road, behind the Krispy Kreme on Four Seasons Blvd. in Hendersonville. Handmade Harvest will be in the Village Hall.